Posted on 18. Jan, 2010 by Melanie in Featured, Updates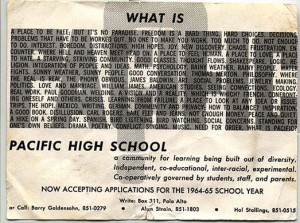 The next Pacific High School Reunion will be in Northern California from August 27 through 29, 2010. If you are not on Robin B's current list of addresses, please contact her for more info at r.bloomgarden@gmail.com, or you can use this site's contact page to send her an email.
Details to follow. Subscribe to this blog or it's Twitter feed to get immediate updates as they become available.

Related Images:

Tags: reunion
Videos
Screaming Queens: The Riot at Compton's Cafeteria clip from Frameline Distribution on Vimeo.
Dir. Victor Silverman & Susan Stryker
2005 57 min. USA

EMMY® Award-winning "Screaming Queens" tells the little-known story of the first known act of collective, violent resistance to the social oppression of queer people in the United States — a 1966 riot in San Francisco's impoverished Tenderloin neighborhood, three years before the famous gay riot at New York's Stonewall Inn.

"Screaming Queens" introduces viewers to street queens, cops and activist civil rights ministers who recall the riot and paint a vivid portrait of the wild transgender scene in 1960s San Francisco. Integrating the riot's story into the broader fabric of American life, the documentary connects the event to urban renewal, anti-war activism, civil rights and sexual liberation. With enticing archival footage and period music, this unknown story is dramatically brought back to life.

"Screaming Queens" is a production of Victor Silverman and Susan Stryker produced in association with ITVS and KQED, with funding provided by the Corporation for Public Broadcasting.

http://cart.frameline.org/ProductDetails.asp?ProductCode=T636

Northern California EMMY® for Outstanding Achievement, Historical/Cultural Program

"If there was one film I'd want to show to my students to inspire them both to do and to make history, "Screaming Queens: The Riot at Compton's Cafeteria" is it (and it clocks just under an hour!). Transgender historian and activist Susan Stryker dives into the archives and emerges with a story about the first collective militant queer resistance to police harassment, not at the Stonewall Bar in New York in 1969, but at Gene Compton's Cafeteria in the heart of San Francisco's Tenderloin district. It's a story that is at the foundation of everything from glam rock to lesbian separatism, gay struggles based on civil rights activism to squatters and housing rights agitation (and therefore right for classes in everything from cinema to political theory). It's also a story of unlikely heroes and heroines, putting passion and power at the center of an emergent queer historiography."

- Amy Villarejo, Associate Professor in Film and Director of the Feminist, Gender, & Sexuality Studies Program, Cornell University

"Stryker and Silverman have here triumphantly intervened in queer theory and queer history with their brilliant archival work and their careful elaboration of the relations between gender, sexuality and all the other differences that structure the world differently for different individuals at different times and in different places. A truly great scholarly putting-to-use of the moving image documentary format, this tape's investigation of being something---that is, "trans"---before it was essentially possible, makes it of the utmost relevance to gender theory, queer theory and sexuality studies today. A terrific investigation of the multiplicity of power relations that surround any historical event, with fantastic use of archival materials, "Screaming Queens" is a wonderfully refreshing corrective to Stonewall-centric U.S. LGBTQ history."

- Richard Cante, Media & Cultural Studies and Program in Sexuality Studies, University of North Carolina